Homestead in the Holler is a participant in the Amazon Services LLC Associates Program, an affiliate advertising program designed to provide a means for sites to earn advertising fees by advertising and linking to amazon.com.
Blackberries are the taste of summer. When we moved to our farm, I was so excited to see that we had wild blackberries growing everywhere. In fact, we have so many blackberries that they can become an annoying thorny weed. We chose the best blackberry patches that have the tastiest berries for eating to pick from. The goats and sheep get to eat the rest of the blackberries that are in the pastures. Plenty for us to eat and plenty to share!
Nutritional benefits of Blackberries
Blackberries are an excellent source of Vitamin C, Vitamin A and Vitamin K. They are also full of antioxidants which help keep free radicals at bay. In addition to that, they contain 14% of the daily recommended amount of dietary fiber. Plus, they are a delicious summertime treat!
Photos used with permission
Recipes
We eat a lot of blackberries fresh. They taste great in oatmeal, yogurt or ice cream. I asked some of my favorite bloggers for their favorite blackberry recipes beyond the typical cobbler and pie. For the record, I love blackberry cobbler, but I also love a new recipe. They did not disappoint!
Amber makes these unique and addicting Blackberry & Lavender fruit roll-up. Fruit roll-ups aren't just for kids!
~~~~~
Heather has an amazing Blackberry Butter recipe. It's delicious any way you want to eat it. I can't wait to try it out on pancakes!
~~~~~
Courtney makes an easy, healthy treat. Blackberry Fool is also full of probiotics, keto friendly and has been a favorite in Europe for hundreds of years!
~~~~~
We make a lot of Mixed Berry Kefir Smoothies. Kefir makes the best smoothies, so creamy and delicious. You will need 1/3 cup frozen blackberries, 1/3 cup frozen blueberries, 1/3 cup frozen strawberries, 1 banana and 1 cup of kefir. Place all of the ingredients into a blender and blend until smooth. The banana provides enough sweetness that extra sweetener is not needed. But if you prefer more sweetener, add 1-2 Tablespoons of maple syrup to taste.
~~~~~
Preserving blackberries
Blackberries only keep so long before they start going over. Thankfully there are several ways to keep that taste of summer going all year long!
Freezing
I often freeze blackberries to use at a later date. Frozen blackberries are perfect in smoothies or to bake with. Spread the blackberries in a single layer on a cookie sheet and place in freezer until solid. Once they are thoroughly frozen, they can be placed into a zip-loc bag and stored in the freezer.
While I like to have frozen blackberries on hand, there is only so much freezer space available.
~~~~~
Dehydrating
Did you know you could make blackberry powder? Darcy dehydrates blackberries into blackberry powder. A perfect way to get that delicious flavor and save on storage space. I love this idea! Darcy has a lot of delicious dehydrator recipes on her site. I really need to get my dehydrator out and going again.
~~~~~
Canning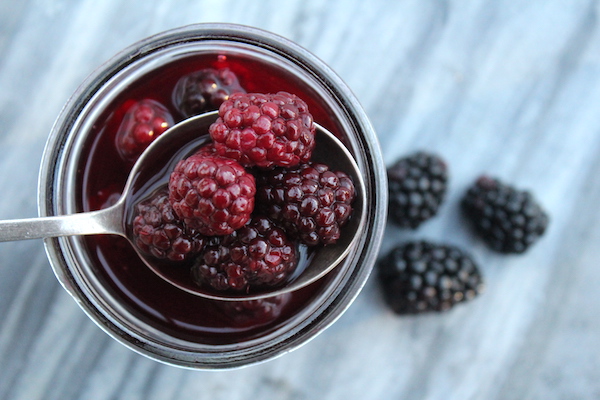 Ashley from Practical Self Reliance preserves blackberries by canning them. She says that they hold up really well through the canning process. Why have I not thought to can blackberries before?
~~~~~
Fermenting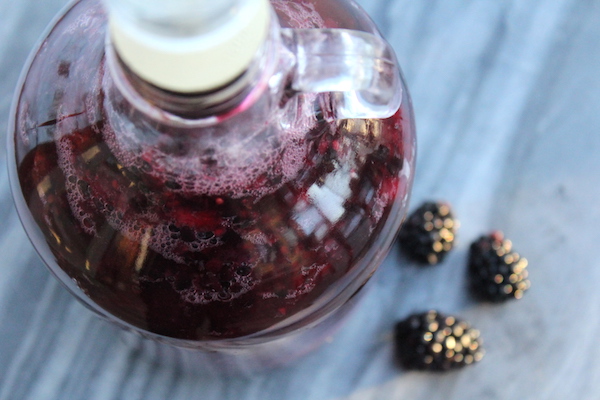 If you have an abundance of blackberries, you can make Ashley's amazing blackberry wine. She also has guidelines to make a smaller batch of wine.
~~~~~
Blackberry Jam
I saved the best for last. No post about blackberries could be complete without blackberry jam and jelly. There are several different delicious ways to make blackberry jam.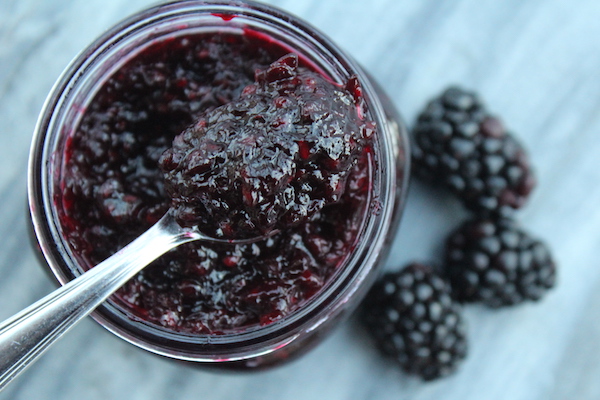 Ashley has a scrumptious recipe for blackberry jam without pectin.
~~~~~
If you prefer to use pectin, Kathy from Oakhill Homestead makes delicious blackberry jam with pectin.
~~~~~
Would you rather make freezer jam instead? Angie has a blackberry freezer jam recipe that looks out of this world.
~~~~~
Blackberry Jelly
Sometimes you want the flavor of a blackberry without all of those seeds. The seeds can cause trouble for people with diverticulitis. Other people just don't like the seeds getting stuck in their teeth. Either way, there's blackberry jelly to the rescue!
Victoria makes delicious blackberry jam without pectin. You can get all of the taste of summer without any of those pesky seeds.
~~~~~
Whether you're looking for a recipe or different ways to preserve blackberries to eat (or drink) all winter long, you're sure to find what you're looking for in these recipes from my favorite bloggers.
Which recipe will you try first?
Hi!  Around here I wear many hats. Homesteader, farmer, homemaker, homeschool mom, gardener and builder.  We strive for a simple, self-sufficient life on our little piece of paradise.  Read more