Homestead in the Holler is a participant in the Amazon Services LLC Associates Program, an affiliate advertising program designed to provide a means for sites to earn advertising fees by advertising and linking to amazon.com.
It's the time of year when nearly everything has a peppermint twist. Pair chocolate and peppermint together and you have a winner! I love chocolate and peppermint together. Chocolate Candy Cane Cookies fit right into the season of peppermint. With double chocolate and candy cane pieces sprinkled on top, these cookies are a decadent treat.
I often find it difficult to find a gluten free, dairy free cookie that is worthy of a cookie exchange. I want cookies to be delicious on their own and not seem a substitute for something. Don't get me wrong, some substitutes are great! But a lot of the time, the texture or the flavor isn't quite the same as the original.
These Chocolate Candy Cane Cookies definitely are not a substitute. With all of the chocolaty goodness, they will be the star of the cookie platter!
Some Baking Tips:
This recipe calls for a gluten free flour mix and xanthan gum. If you use a flour mix that already contains xanthan gum, you can omit the xanthan gum in the recipe. Any gluten free flour mix will work, but my favorite mix is Bob's Red Mill 1:1 gluten free flour.
For a dairy free option, replace the butter with Spectrum shortening. Enjoy Life chocolate chips are my go-to for dairy free chocolate chips.
Refrigerating the cookie batter before forming the cookies is crucial. If the melted chocolate is still warm, the cookies won't keep their shape and will ooze all over the cookie sheet (Ask me how I know!). Chilling the batter for at least an hour will make everything so much easier.
I crush the candy canes by placing them into a ziploc bag and pounding on them with a meat mallet. Be sure to place a cutting board underneath the ziploc bag to protect your counter top. This is a great way to get rid of any frustrations that you may have. Break up the candy canes until they are in small pieces.
Get ready to enjoy some chocolatey peppermint goodness.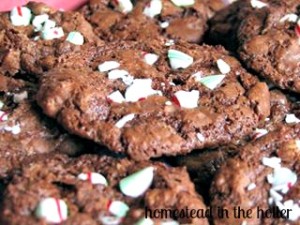 Chocolate Candy Cane Cookies
2015-12-06 09:23:58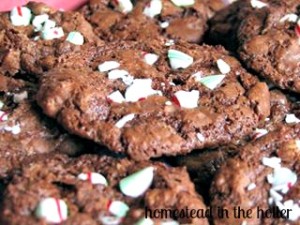 A gluten free double chocolate cookie with candy cane sprinkles
Ingredients
1 bag Enjoy Life bittersweet chocolate chips
6 Tbsp unsalted butter
3 eggs
1 cup sugar
1/3 cup gluten free flour mix
1/4 tsp xanthan gum
1/2 tsp. baking powder
1/2 bag Enjoy Life semi sweet chocolate chips
1 cup chopped walnuts (optional)
2 or 3 crushed peppermint candy canes
Instructions
Melt bittersweet chocolate chips and butter in medium saucepan over medium-low heat, stirring constantly.
In large bowl with electric mixer beat eggs and sugar until thick.
Stir chocolate mixture into the eggs and sugar.
In small bowl , stir together flour,baking powder & xanthan gum.
Stir the flour mix into chocolate mixture until blended.
Gently mix in semi sweet chocolate chips and walnuts.
Refrigerate at least an hour or until firm.
Preheat oven to 375 degrees.
Place spoonfuls of cookie dough 1 1/2 inches apart on parchment lined cookie sheet. The cookies will spread.
Bake 12 to 14 minutes until shiny crust forms on top but interior is still soft.
While waiting for the cookies to bake, place 2 or 3 candy canes into a ziploc bag and crush into pieces.
Sprinkle crushed candy canes over top of cookies immediately after taking them out of the oven.
Allow the cookies to cool completely before taking them off of the cookie sheet.
Notes
Any gluten free flour mix will work for this recipe. If you are using a gluten free baking mix that already contains xanthan gum, omit the xanthan gum in the cookie recipe.
For a dairy free version, replace butter with Spectrum shortening.
Homestead In The Holler https://www.homesteadintheholler.com/blog/
I hope you enjoy these Chocolate Candy Cane cookies as much as we do! What's your favorite Christmas cookie?
Hi!  Around here I wear many hats. Homesteader, farmer, homemaker, homeschool mom, gardener and builder.  We strive for a simple, self-sufficient life on our little piece of paradise.  Read more